Treatment Plans
As one would expect every individual and every pain condition can result in different treatment regimes. In certain circumstances only 1 treatment session may be required for full recovery. In other situations a more longer term rehabilation is required. Normally after 3 treatments there should be significant improvement to either continue the approach or if that improvement has not taken place, then the treatment will be discontinued. This is very much the exception. Importantly even after a single treatment there should be an indication of some distinct pain relief. Treatment times are normally about 30-45 minutes in duration but can extend to an hour.
Where the neuropathic pain is due to a physical impairment, then the treatment will likely reduce or eliminate the pain but in due course the pain may return and further treatment may be required.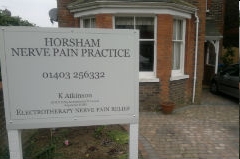 Opening Hours
0800 to 1800 Monday to Thursday
0800 to 1700 Friday
Parking
On site and road side parking is available
Home visits
By prior arrangement home visits in Horsham only can be arranged. Home visit charges are £70 per session.
Rates (as of 1 February 2022)
£50 for appointments approximately 45 minutes (maximum 1 hour)
Payment by card, cash or cheque at the time of appointment please. In the interests of fairness to everyone, late cancellation within 24 hours of the appointment will be charged at the full rate.
Chaperone issues
Please note there is normally a requirement for a degree of undressing required for examination and treatment. The towel technique is used to provide cover but patients are advised that chaperone accompaniment is always welcomed during the treatment. Subject to prior request, a chaperone at no extra cost may be supplied if available. Persons under the age of 16 are obliged to have a parent/adult guardian accompany them.
Public Transport
Rail: Horsham station is 5 minutes walk away (East side exit)
Bus Travel: The Metro bus 65 stops outside the Practice every 30 minutes ending at 1810 every weekday.
See Metrobus link for the timetable.